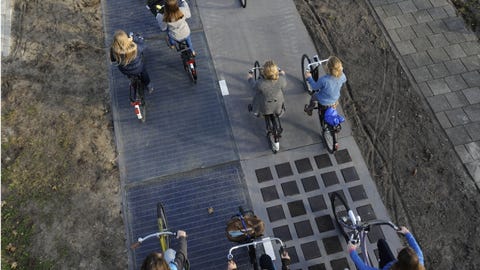 When the Netherlands installed the first solar-powered bike path in 2014, it became a huge success. So much so that France has a plan to build entire solar roads that could provide up to 8 percent of the energy needs of the entire country. Japan is taking a similar approach, but instead applying the idea to water and creating the world's largest floating solar panel. It just goes to show that a small green energy project can have a huge impact.
In the first six months since the Netherlands made headlines with the world's first bike path covered in solar panels, it already showed the green idea is reaping higher-than-expected energy dividends, raising the chances that the idea could take off elsewhere.
The 230-foot test track is located in Krommenie, north of Amsterdam. The path is already producing more than 3,000 kilowatt-hours, or enough to power a home for a year.
The solar panels used on the Dutch bike path are sandwiched between glass, silicon rubber and concrete, and are strong enough to support 12-tonne fire trucks without any damage. Each individual panel connects to smart metres, which optimise their output and feed their electricity straight into street lighting, or the grid.
The roads could be modified to run along sections of highways, bike trails, or walking paths to create more discreet solar arrays compared to a sprawling solar farm.
Article originally published by Popular Mechanics
---
Get your free solar quote today!
Get Quote or call us on (08) 9300 9324
We are local energy experts, providing residential solar power and commercial solar power solutions in Perth, Western Australia. We are a family owned and run business providing solar solutions (solar panels, solar hot water, solar battery storage, electric vehicle chargers and more), for both residential and commercial customers. We have been in operation for over 11 years and are trusted for our technical expertise, honesty, professionalism, aftercare support and consultative, friendly approach.
Useful links: